Three women meant the world to me as I grew up. Three women, so closely related that if they had been combined into one, she would have been Wonder Woman in the flesh. Strength and life, fun and creativity, love and intelligence, all lived out as fully as possible in my three favorite ladies: my Mom, my Gramma Doris, or Dodo as she was known, and Great-Aunt Bernice.
I wrote this for Gramma's memorial, but I can't think about her or talk about her without thinking and talking about Mom and Bernice too. When they were together, they were a trio– a set. The three of them taught me what it means to be a woman, and I learned different things from each of them. From Mom, I learned so much strength, creativity, and how to be comfortable in my own skin. Bernice taught me how important it is to keep my mind sharp and to always want to continue learning.
And Gramma. Some of my favorite childhood memories were of times spent at her house, playing games, talking with her, and playing with the cats. Gramma taught me so many things. She taught me the value of memories. She treasured the events of her life so much that she didn't like to let go of… anything. Anyone who had ever been to her house knows what I'm talking about.
She saved everything that meant something to her, from the mundane magazines with pretty pictures or to-do lists scribbled on notepads, to the 30 years of "book letters" that Mom wrote her. She saved every one of those. She saved every note or card that my Grampa ever wrote her too, from the early days of their marriage to their odd relationship after their divorce, of weekly lunch dates and sweet "just because" notes that he sent her all the way up to his passing away. She treasured those she loved.
Every place we moved, every new station that my Dad was assigned to, meant a new travel destination for Gramma and Bernice. They came to every single place we lived. When she wasn't visiting, she was writing. She, Mom, Bernice, and I had letters going back and forth all the time over the years. When we were able to come back for the holidays, she always made them special for us, even if our time in town was short.
Gramma taught me patience, as she was probably the most patient person that I ever met. She could say things to me that my Mom couldn't, in a way that instantly made me feel bad for misbehaving. She showed me that love, real love, is unconditional and not dependent on a blood relationship. She and Grampa adopted my Mom, and that always rang deep within me. When E and I had the opportunity to become foster parents, and then adopt our boys, it was a direct result of Gramma and Grampa's decision to adopt Mom. I love her so much, for this and so many other reasons. Gramma was but one of three amazingly strong women who made a huge impact on me and will continue to do so as long as I live.
———————-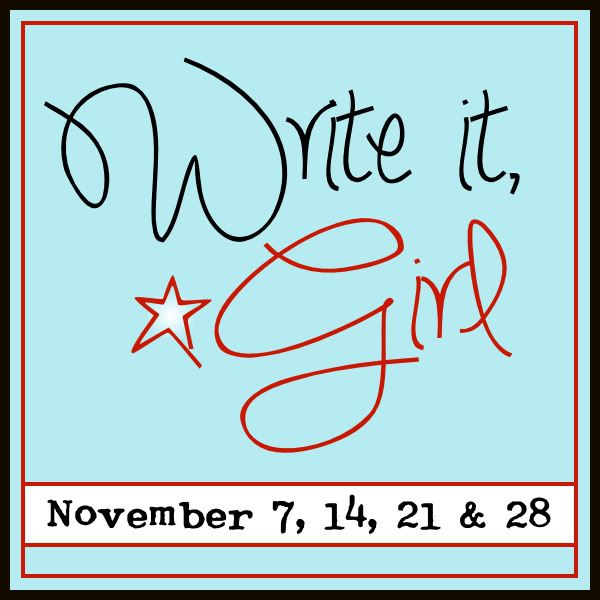 This post may not be the most fantastic writing I've ever done, but it is all me and it is from my heart. I'm linking up with Write It Girl today.