Do you need peace during the holidays?
The craziness that is the holiday season is nearly upon us.
It is hard to believe because although it takes a whole year to come, it just seems to sneak up on us "so fast!"
In 40-something days it will be Christmas. For our family it begins with the week before Thanksgiving and volunteering for Operation Christmas Child's Collection Week. This rapidly slides into Thanksgiving, Black Friday, and then BAM! Christmas preparations are upon us.
As we're all getting ready for the inevitable gift giving, card addressing, treat making and meal planning, I've gathered some resources to help you out. Some are posts with helpful lists or recipes, others are resources for purchase (or free!)
Just a little planning ahead will make your holidays much more peaceful and enjoyable.

The one resource will help you get it all together, from November through New Year's.
 Recipe series from Carlie at Managing Your Blessings- because you can never have too many cookie recipes! I contributed a post to this series. 🙂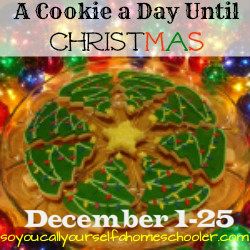 Do your kids ever ask why the people stand at the store entrances and ring bells? Here is an interesting unit study about the founding of the Salvation Army. Perfect for a light December study!
 Sometimes it's just hard getting through the holidays when loved ones are gone.
FREE ebook download and one of my very favorite Christmas stories. Also free for Kindle.
 Fantastic devotional and crafts to teach the Truth of Christmas and have fun with your kids, and don't forget the Truth in the Tinsel Printable Ornaments!
Find just the perfect movie to watch with your friends or your family.
Tips to help you have a happy New Year by being intentional before Christmas.
This eBook bundle is chock-full of activities for your family to get creative for Christmas!
Oh yes! Cookies are a standard snack during the holidays, and these cookies are our family's very favorite so I'm sharing my Gramma's recipe with you. You're welcome. 🙂
Did you know that they keep track of Santa's flight path on Christmas eve? Let your kids find out where in the world Santa is!
Yes, it says 2013. And yes, it still applies, still has TONS of great ideas, and will help you keep your budget in the black this Christmas. It is still available now in 2015, and it's FREE!
Offers a countdown to Christmas filled with tasks, activities, and reminders to make this your best holiday season yet!

Last but not least, gift guides will give you wonderful suggestions for anyone!