When I first started homeschooling, I was excited to fill out my first lesson plan book.
I bought it at the teacher's supply store.  It had a big apple on the front, and unlined blocks to write in.  I used it faithfully every day, but it didn't take too long before I began wishing it had various features it was missing. Features I didn't even know I needed, until I began using it.
Every homeschool mom starts to accumulate a mental list of things we wish we had in a planner.
So many publishers have tried to create "the ideal planner" for homeschool, the choices are mind boggling!  Come with me, and we'll take a little walk through the myriad of choices that you have in the area of lesson planners and you'll get to see which one I prefer too! This post contains affiliate links.
Commercially available lesson planners seem to fall into two categories:

Basic, like this one.  They are geared for a classroom teacher, so they usually have a seating chart, a yearly planner for activities, and then the lesson planning grids.  Most of the basic planners are spiral bound and have unlined blocks and unlabeled subject headings.
Full, like this one. I've actually used this particular planner a few times in the past. It has more classroom organizational pages, a much wider two page spread, and the planning grids are all lined.  For me, lined blocks are very important! Also spiral bound, which is nice because it lays flat. Still these planners take a while to set up, because you have to write in all of your headings and lesson information, and they are not geared for a homeschooling family. I always tear out the seating charts and other unnecessary pages.

Cute, like this one. This is a newer planner and I haven't used it, but it looks like it would be a lot more "fun" to use that the two above (which I have used.) Contains 40 weeks' worth of planning grids, typical "schoolish" supplemental pages for substitutes, seating, etc, and inspirational quotes throughout. And colors! It is cute, but definitely more basic.
Those are just classroom and school "teacher" type planners.
We're homeschoolers!  We don't have 24 students in our class. Many of us don't have more than 5 or 6, and most of us have less than that. We multi-task all day long too. We have to plan meals AND school lessons AND appointments AND sports AND work!
A few homeschool publishers have come to our rescue.
Printable Planners
The Homeschool Mom Life Binder from Life of a Homeschool Mom is what  I like to call the "Everything Planner". Practically anything that you would want to include in a home management notebook is in this pretty downloadable planner set. Undated and re-usable, this planner covers ALL the bases. I have a detailed review for you and some sample pages you can see too.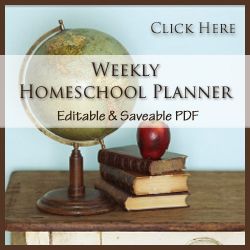 The Weekly Homeschool Planner by Homeschool Creations is a fairly comprehensive, downloadable planner that uses editable PDF's.  The nice thing about these is that you can type your own headings, names, and even basic lesson planning that is repeated, before you print out your planner, thereby eliminating the need to spend lots of time doing it by hand.  Includes 40 weeks of lesson planning sheets, journal pages, attendance tracking, to-do lists, chore charts, menu planners and more. This planner is undated, meaning you can use it year after year, unlike the Well-Planned Day and TOS Planners.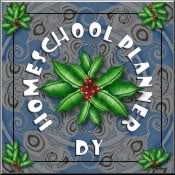 Donna Young's Homeschool Planner is several very large sets of printable planning pages for household and homeschooling. Her planning pages have been used by thousands of homeschool families. She has several different styles, and within those styles each planner set has dozens of planner sheets to choose from.
She also has Household Planner sets, and you can mix those in with your lesson planning sheets and create a very comprehensive, functioning home management system. Sheets are undated so they may be used over and over, most are editable WORD documents, and best of all, they are FREE!
The Homeschool Mom Planner by the Homeschool Mom that even includes shopping lists and menu plans! Free to download and print, it is very basic but will get the job done. Planning sheets are undated, but there are calendars you can download and print too that are dated. The Plus version is an Excel workbook, fully editable for record keeping for all ages and grades. It's also free!
Electronic Planners
Home School Tracker is a very in-depth computer program web app for lesson planning and record keeping.  There are so many bells and whistles in this program, I  can't even tell you about all of them.  I will be honest, I thought it was a great program, but I spent so much time just entering in all of our books, my kids' information, lesson plans and everything else that by the time school actually rolled around and I needed it, I was so burned out on using the program that I never really ended up using it.
Homeschool Tracker is the Photoshop equivalent to all the other homeschool lesson planning software. I never did figure out how to print out daily or weekly assignment lists. I know families who swear by it and really love it.  This  software had a CD-ROM upgrade called "Plus" but this has been discontinued in favor of their new web application. The HST Basic version is still a free download, and will do almost everything that the online app does. There is a definite learning curve with either edition. If you really want to try it out, download the free version. If you love it, buy the online subscription. If you become overwhelmed, you can always uninstall it, or cancel without guilt. 🙂
Homeschool Day Book is a basic, computer journaling software for recording your school work as it happens, and it is by far my favorite.  It is set up as a journal, for recording after the fact. You can track classes, students, and hours, and use it as attendance documentation.
I really like this program because I didn't feel like I was tied to it for weeks just learning how to use it. It literally took me about 2 hours of light use and I had it all figured out. I can print out attendance reports by child, by time spent per day or per subject, and even print out the entire years' worth of entries with descriptions, if I need that much hardcopy documentation.
The "day book" design makes it very flexible, and while it isn't meant as a plan-ahead type planner, you can enter items ahead of time as place holders, and then enter the actual time your children spent on the activities after they are finished.  Once the time is entered, it will show up in the attendance grid and log that day as a school day. It is simple and does exactly what it says: Documents our learning. It truly is a planner without commitment! Download the 30-day trial to see how easy it is to use.
I hope I've given you some idea of what you have available to you.  Finding "the perfect planner" is, I think, as tricky as finding the perfect curriculum.  There really isn't anything perfect out there, and since we change our minds and curriculum too, there never will be.  We just have to find what will work well for us.
Disclosure: I received a free copy of the Home School DayBook in exchange for my review. I was not expected to write a positive review, and the opinions expressed are solely my own. I have affiliate accounts with Life of a Homeschool Mom and Homeschool Creations.