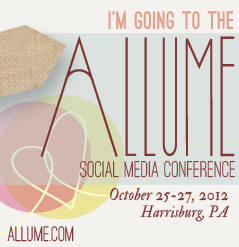 I had a fun phone chat with a blog friend today and it really got me thinking about October, and Allume. I am seriously excited about this conference.
Most of my friends and family do not understand this at all. There are several reasons I love going, but they can't relate.
This year, they are doing it a bit different. There will be more workshops for writing and blogging. The strong faith aspect is still there, and I know from the past two years' conferences that God has his hands all over this. Every year. He meets us, gives us what we need, even when we don't know what to expect. Even when we don't feel like we belong there. Even in the midst of being thousands of miles away from someone I loved who was in the midst of dying.
Oh Lord, meet us there.
I want to see some of my old friends! I can't wait to meet some new ones! To hang out, talk about blogging and not have people look at us like we're crazy. We're not crazy; we're sisters. Sister in faith, sisters of words, lifting one another up to the Holy One… and loving every minute of it.
Does it cost me? Oh yes. It costs me time: Five days, for a 3 day conference. It costs me money: Close to $900. It costs me exclusivity: I choose to skip other things that are good, because I feel that this is better.
Is it worth it? Oh, absolutely.
Why spend this time, this money, give up these good things for something better?  I do this because I press on toward the goal to win the prize for which God has called me heavenward in Christ Jesus. (Phil. 3:14) My blog is more than a hobby, although it can be that. It is more than a compilation of random thoughts, although it sometimes is. It is ministry. 
God is the one who got me there the last two times. He is the one who carried me through the turmoil last year. He is the one who ordains each one of us, to go or not. There are stories. Lots of stories, about how the Lord met women there, brought women there, touched and carried women there. Like my friend Michelle's story. You wouldn't believe it unless you read it, and then the rest of the story.
The Allume Conference is the ultimate women's conference. It is one part social media, one part God, and one part sisterhood. And oh I am so ready for it.