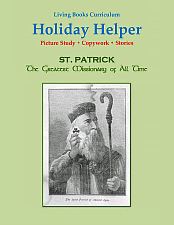 This week's freebie is going to be a lot of fun!  CurrClick! is currently offering a free mini-unit called St. Patrick: The Greatest Missionary of All Time.  I had never had an interest in Saint Patrick until about this time last year, when I rented Saint Patrick the movie. It was very interesting!  He really was an amazing missionary!  His life story went from tragedy to triumph, and it is easy to see how he did reach so many for Christ.
Up to this point, I have never done a study on Saint Patrick with my kids. Not once, in 12 years of homeschooling, have we ever done more than pinch the non-green wearers on St. Paddy's Day.  I remember when my oldest kids were in school (Kindergarten and first grades) and the focus the school had on STUDYING LEPRECHAUNS. Yes, the study of fictional beings, as if they were real.  It never set well with me, and so when we began homeschooling, St. Patrick's Day never had any priority for us.  That was before I learned who the man was.  Now I want my children to know who he was!  This little unit will help us do just that. Click on the book cover, and download one for yourself! And if you've never been to CurrClick! before, check it out.  You'd be amazed at what you can download for a fraction of the cost of printed.
Published by Living Books Curriculum.
To round it out, I also found this Hands of a Child St. Patrick's Day Lapbook, which we already have and plan to use as well.  Lapbooking makes any unit study more fun!